Dipperfox introduces a brand new technology for stump removal, which is 8-10 times more efficient than other methods currently used. The outcome is similar to a stump grinder – the whole stump and roots will be cut into 30-50mm chips, but compared with stump grinding, the whole process will take 20-120 seconds, depending on the hardness and diameter of the three. Plus, Dipperfox is capable of drilling 900mm under the chip to smash the roots. Its blades have been made from wear-resistant steel and are basically rock-proof.
COMPARED WITH OTHER METHODS, THE  MAIN BENEFITS OF DIPPERFOX ARE:
It's about 10 times faster than other known stump removal methods.

No waist to utilize left behind (stump chips will be used as




 fertilizer for the ground)

Can be used with any excavator between 14 to 30 tons,




 requires oil flow 110/220/LPM and pressure 180-350 bar

Automatic speed/torque adjustment (built-in long-lasting 2




 speed dynamic gearbox)

No electricity, no cables to connect (fully hydraulic operation)




 and the unit can be stored in outside conditions (no sensitive

electronics, no corrosion on contacts)

Bolt-able consumables (double-sided cutting blades, screw)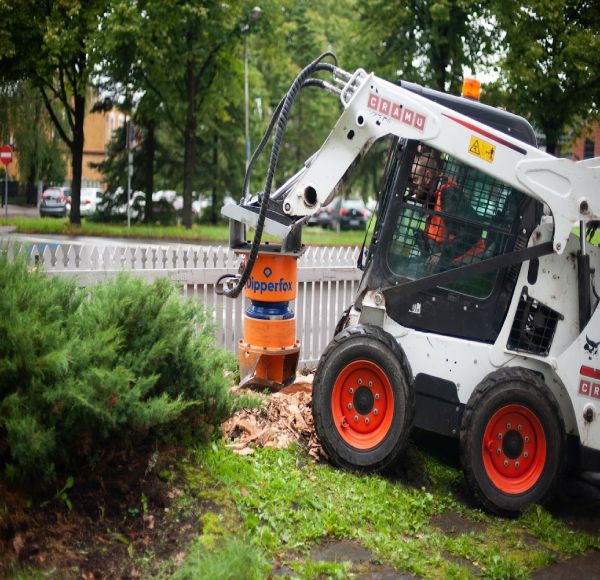 The Dipperfox product family is growing with the new arrival – the baby Dipperfox called SC600. As the original Dipperfox 850 Pro is the most effective stump removal tool in the world for big excavators, for usage in construction and forestry. Our model SC600 will carry one the performance, but it can be fitted for smaller carriers. DF600 is a tool for those in cities, municipalities, arborists and gardens – where full-size track excavators are too big to use. The main advantage compared with traditional stump grinders are safety, noise level and efficiency. As the revolving speed of Dipperfox is max 60 RMP, there are no flying parts and in case of the blade hitting the rock, it will simply be pushed away. No need to create big safety zones for work. And as a true member of the Dipperfox family, the SC600 does the same job but much quicker, compared with vertical grinders. Plus, it can be used to work below the ground, up to half a metre. It is very useful if you need to plant a new tree in the same place, where the original stump was located.
DIPPERFOX SC600 IS A MULTI-CARRIER TOOL THAT FITS THE FOLLOWING:
Excavators between 6 to 14t

Backhoe Loader from 6t

Skid steer and compact track loaders from 6t

Hydraulic pressure 170-280 bar & 65 – 150 Ipm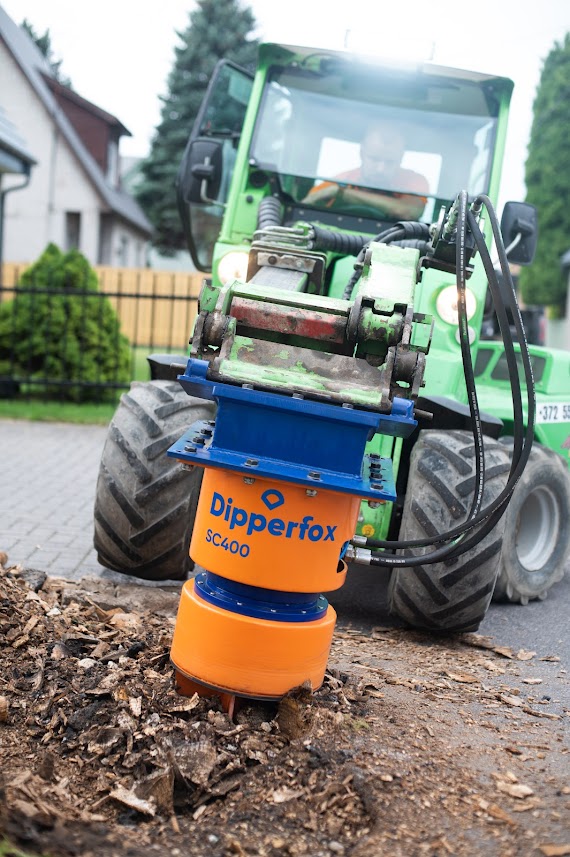 The cutting diameter is 400mm and it is designed for:
Mini excavators (1,5-5t) 
Loaders (like Avant 600/700/800 series) 
Mini skidders (like Doro Dingo)
Requirements for hydraulis are 120- 250 bar and 40 -130 pm
SC400 is designed to be used in populated places (gardens, public parks, and urban areas, etc). 
Compared with self-propelled grinders, it has number of benefits:
It has massive, 13 000 N torque, providing enough power for low RPM cutting blades. It avoids aggressive contact between the blades and rocks and in the ground.
It doesn't need a huge safety zone, as there are no fast-moving blades to spread around the debris
All the debris will stay next to the drilling position, with no flying safety hazards!
Reduced noise pollution, compared with grinders –a great tool for the urban environment

Allowes remove stumps with limited access (next to buildings or surrounded by tarmac or stones)
How it works and what kind of performance can be expected?
Discover the before and after:

Is Dipperfox a stump grinder, stump cutter, stump drill or stump crusher?
Dipperfox combines all the elements of all the tools mentioned above.
A stump grinder or stump cutter is a power tool the size of a lawnmower or as large as a truck. Most accomplish tasks by employing a high-speed disk with teeth that grind the stump and roots into small chips. A typical stump grinder/cutter incorporates a cutter wheel with fixed carbide teeth.
Dipperfox differs from similar products primarily in the drilling speed and efficiency achieved through dynamic gear changes, replaceable blades and replaceable end bolts.
High-speed stump grinders and stump cutters also create noise and flying debris. Reduced noise pollution and no high-speed objects, compared with grinders – saves operator and saves people surrounding the job-site.